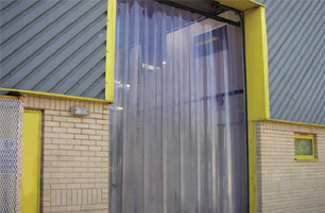 PVC Strip Curtains/Doors
We offer excellent quality PVC Strip Curtains which provides an excellent thermal barrier,
keeping cool and warm air exchange to their optimum level. Therefore, providing a healthy
working environment. Our PVC Strip Curtains are manufactured using advanced technology and
state-of-the-art machinery. They are easy to install, easy to clean, are long lasting and available
in various colours & thickness.

Select Your Door
Based on the door height, the location and traffic type, different sizes of strip material are available in different overlap patterns. For interior door apply minimum strip overlap, thickness and width and for exterior doors apply maximum strip overlap, thickness and width. For heavy duty traffic applications, use Double Ribbed material. The width, thickness and overlap of the PVC strips is determined by the application doorway size, traffic type and density together with the surrounding draught conditions. Our experienced advisers can quickly recommed the correct selection.
Mounting Hardware
Our specially designed head rails are a robust extruded Aluminium section. The unique design produces an efficient "T" slot fixing for the PVC strips. This caters for a variety of selected overlaps and at the same time permits the individual strips to be stretched laterally during fixing. Specially designed powder coated cover is standard, which hides fixtures and adds aesthetics value.
Sliding Track
Our specially designed sliding track allows to open door completely in case some bigger object required to be moved through door. This prevents breakages of any strip during the operations.
Plain PVC
These strips are flat shape, brilliantly transparent and crystal clear and are suitable for ambient temperature from 4°C to 65°C
Anti Insect Amber PVC
These strips are glare reducing due to light amber colour. Most flying insects perceive this light amber colour as black & opaque. According to studies, when this PVC is used in exterior opening, flying insects are no longer attracted to the lights located inside the area.
Welding Grade PVC
These PVC curtains shields fellow employee from the flying sparks and hazardous glare of your welding operation and protect against serious eye damages by screening out harmful UV rays, These curtains allows easy access to personnel, trolleys & equipments from any point throughout the enclosure. It allows supervisors to monitor the activity and the safety of the worker inside the enclosure.
Double Ribber PVC
The unique double rib design of these strips lets the rib portion take the impact of truck and forklift traffic. This prevents scratching and tearing as well as grease and grime build-up.